High Definition 360° photography & bespoke Virtual Tours
---

Our standalone 360° Panoramic images and integrated Virtual Tours are produced to the highest possible levels of quality and resolution. Using third party software, our integrated high definition virtual tours can include features such as animated hotspots, floorplans, logos and branding, embedded videos, photos, audio tours or soundtracks - giving you more opportunities to inform and entice your customers. We can also use the images to produce a Google Business View Tour
A cutting-edge and persuasive marketing tool, this exciting technology has been proven to increase business footfall and revenue.Yours to embed on your website, shout about on social media and impress in business presentations, it's a versatile asset that puts you ahead of your competitors.
Suitable for: Hotels, villas and serviced apartments, museums, theatres, galleries, convention and exhibition centres, stately homes and castles, sports facilities and stadiums, real estate and commercial properties, resorts and spas, schools and universities.
Our priority is to produce the best quality product possible. Which is why we work closely with businesses on a case-by-case basis, putting the time in to understand exactly what you want to showcase.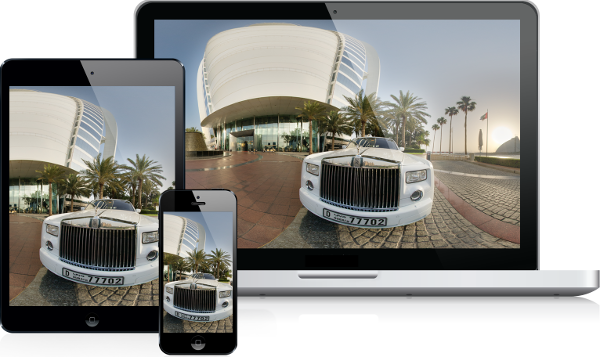 Here are some of the benefits of having your own HD360° Tour.
Highly Cutomisable

Perfect for businesses that don't fall into the Google Map Business View categories, including: Real Estate, Villas and Commercial Properties; Boarding Schools, Colleges, Universities, Halls of Residence and Student Accommodation; and Stately Homes, Castles and Heritage Sites.

Optimum Resolution

Highest possible quality, beyond Google's maximum resolution limits. Our HD360 tours deliver absolute clarity for businesses whose aesthetic is their calling card. We're specialists in enhancing beautiful spaces and creating enticing atmospheres. We can also create a higher resolution Google tour from the same images if required.

Interactive Features

Interact with your audience by adding extra features and navigation options to your bespoke tour. By incorporating hotspots, your audience can experience video files, audio files, graphics, textual information, maps and floorplans. They can even make purchases and reservations.

Showcase People

Have people in shot without having to blur their faces. This is a fantastic feature if the people in your tour are as important as showcasing the space itself, or you want to further embellish your bar, reception or restaurant. Due to Google's no-face policy, this is not possible with a Google tour.

Editorial

Showcase not only spaces, but actual events. Capture a moment in time such as festivals, weddings, markets and exhibitions. These tours can then be used to promote the event all year round, giving you a fantastic marketing and presentation tool.

Useable Offline

Access a fully functioning tour independent of internet access. This can be useful for information points in hotels or shopping centres, or during presentations when online access is limited.